How to Reduce the Risk of Utilizing Public Wi-Fi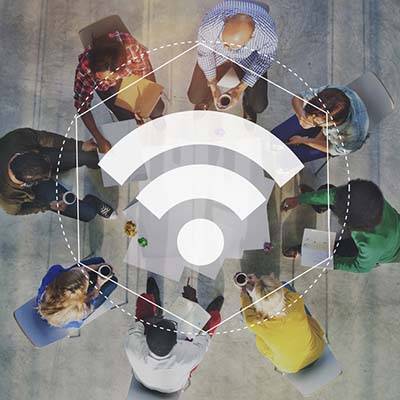 There will probably be a moment during your life where you absolutely require Wi-Fi and the only option will be a public connection. This may be problematic because a public Wi-Fi connection is far from secure for business purposes. A method to increase productivity without compromising security is needed for every business that has employees (especially employees working remotely), but what's the best way to do it?
---
Below is a list consisting of some of the reasons why a public Wi-Fi connection isn't as secure as you hope it will be, and what can be done to reduce the risk factor.
The Genuine Dangers of Public Wi-Fi
If you visit a location just to utilize their Wi-Fi connection with your smartphone, you're doing so because you would rather use their connection than your own mobile data plan. You might decide to stop into a local coffee shop with hopes that you can locate a connection. There is a connection, but it's not protected by a password. This may appear to simply be convenient, but it should also generate a red flag in your mind. There is always the possibility that your activity is being monitored by, in the best-case scenario, nosy bystanders.
Hackers tend to drift toward busy public wireless connections for the sole purpose of stealing information and searching for sensitive data. There's nothing preventing a hacker from accessing these networks because these networks are nearly devoid of any security features. Your business needs to have measures in place to ensure that this doesn't become a detriment to you.
Password Protection is Critical
Why is your in-house network secure? Because you require credentials to access it. These passwords should always be implemented. If you don't, it could mean that your organization's network is wide open to anyone who wants to utilize it. We actually recommend setting up multiple wireless networks: one for your in-house employees, and one for your office's visitors. You can even partition off your network so that specific resources are assigned to both your in-house workers and your visitors.
If you're accessing a public wireless connection, it's imperative that your business has an encryption solution in place to ensure that any data sent to, and received by, your devices is protected. If there is a wireless access point available, make sure that you don't connect to it unless it demands a password.
Implement a VPN
A Virtual Private Network (VPN) is the best way to ensure that your company's data is secure while out of the office and on unprotected networks. VPNs take advantage of encryption by scrambling your data while it's in transit. Anyone hoping to sneak a peek at your data will only see a disorganized mess, making a VPN an incredibly valuable solution.
Does your company need a Virtual Private Network? Macro Systems can help. To learn more, reach out to us at 703-359-9211.
Comments
No comments made yet. Be the first to submit a comment