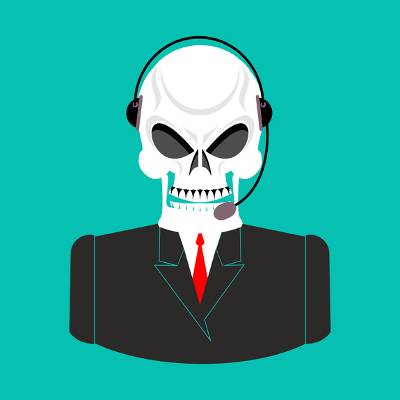 Tech support has one job: to help you with tech-related problems. Unless it's fraudulent tech support, that is. Many criminals will pretend to be a support tech to gain a target's trust, with the intention to cause them serious problems. To keep your business safe, make sure that you are able to spot the warning signs of tech support fraud.
---
The Call You Didn't Ask For
You may receive a call or email from someone asking about your computer's status. This person will probably claim to be from a well-known technology company, such as Microsoft or McAfee. You should not trust them. Companies the size of Microsoft will not reach out to check if there is a problem with your computer.
Try to imagine how many employees Microsoft would need to have to reach out to every Microsoft customer. When there were over 100 million users of Office 365's commercial edition in 2017, plus 27 million users of Office 365 Home & Personal, there's simply no way that Microsoft would devote those kind of resources to gather that type of information.
Also, there is an agreement between the FTC, National Cyber Security Alliance and Microsoft, that no tech company will call you on the phone unsolicited, or send you an email with the same message.
Stay Current
Perhaps the best defenses against almost any threat, including tech support fraud, is to makre sure everything stays updated, including your operating system, antivirus and antimalware. This will limit the damage of a tech support scam. IT may also consider installing ad blockers to increase your protection.
Don't Give Out Credit Card Information
Should "tech support" ask for your credit card number after calling you first, DO NOT give it to them, and hang up immediately. If you already gave out your card number, call your credit card company, explain the situation, and be sure to keep checking for fraudulent charges and have them reversed. Then report the incident to the FTC Complaint Assistant.
Alert Your Employees to be Aware of Tech Support Fraud
It is imperative to realize that you aren't the only person in the business who could fall victim to tech support fraud. Your employees need to always be aware of this threat, and, additionally, should be able to identify the warning signs of tech this type of fraud. Your security is only as strong as its weakest link, and more often than not, the weakest link is your end users. Thus, it is critical that they are educated and evaluated on their knowledge of best practices.
Tech support is supposed to help you, which is a responsibility that Macro Systems doesn't take lightly. To learn more about our support services, give us a call at 703-359-9211.