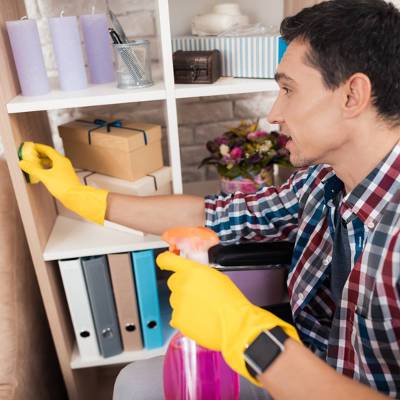 The Modern business relies on the Internet so much that, if the Internet went down, many employees wouldn't know what to do. There's no need to surrender productivity simply because the Internet isn't cooperating. There are numerous ways to get work done on a day that the Internet calls in sick.
---
Organize
An Internet blackout is a great opportunity to do some 'spring cleaning'. There is no better time to make sure your workplace and/or files on your local network are organized.
Ensuring that your workspace is clean, and that your workers follow suit, can also have benefits that will impact each employee and your organizational collaboration. An organized desk features fewer distractions than a messy desk and makes resources easier for someone else to find in the event of an emergency.
This advantage also includes storage space around the office. A cluttered cabinet is one that's hard to locate things in. Taking the time to clean up will help you save time later, and cleaning during an Internet outage usually means that you wasting time that could be spent doing something else.
You can also organize your data storage, if you still have access to them. Folders are your ally in this case, as you can develop a hierarchy that permits you to arrange any loose files scattered around your desktop into a logical and concise system. This will save you time.
Work as a Team
One flaw to a workplace being so reliant on technology is the boundaries that it can place between team members. Communicating through a screen all the time usually doesn't result in the camaraderie that can develop via old-fashioned facetime. If your Internet fails you, you should take advantage of that time to encourage some face-to-face interactions.
Whether they use an internet outage to hold meetings or socialize with other employees, your workers can engage in some team building as they wait. They can also meet up and discuss ideas they may never had the chance to share before.
Allowing your workers to know you a little better, and vice versa, can also help keep them engaged and allow you to understand who they are a little better, which is always an advantage. This makes it easier for you to better sculpt your management style to suit each employee.
Use Mobile
While employers may view mobile devices as distracting in the office, they can be a huge blessing as well. Should your Internet go down, your team may be able to continue working on some of their tasks by utilizing their mobile data, either as a part of a BYOD strategy or on a company-provided device. For help in setting up these solutions, reach out to us.
What are some ways you combat the loss of productivity due to an Internet outage? Share your strategies in the comments!