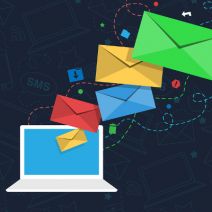 There are positive emails, and there are negative emails. Sometimes it's easy to tell the difference between the two, but can you write an email that's more likely to be read and acted upon? There are a few imperative steps to writing them more effectively.
Short is Better
What's your initial reaction to a prolonged email? Best-case scenario for the sender, you skim it briefly before moving on to the rest of your inbox. It's likely that you have more important things to do. Your contacts are in the same spot, so it is better to keep your emails brief and direct. Any extra information that doesn't serve the email's purpose can be deleted. If an email is too long for you to read, it will also be too long for the recipient to read.
Write a Compelling Subject Line
Your subject line is your only chance to convince the recipient of your message that it is worth their time to read it. The subject line should establish the topic of your email in a way that grabs the reader's attention and demands they at least open it. Give them a reason to open the email, not fluff.
Always Clearly Identify Yourself and Your Company
If your emails read like they could be sent from any company to anyone, you need to edit them. Each email that is sent out should look like the time was spent to craft an authentic message, which means that you need to take the time to create that genuine message. Always identify yourself and your company, especially when communicating with vendors, new clients, and prospects.
Proofread Your Spelling and Grammar
If you misspell words or use inaccurate gramar, you instantly discredit everything you say in your email. These shameful and embarrassing mistakes can damage you and your companies' reputations, but are easy enough to avoid by carefully proofreading any message that is about to go out before clicking the Send button. Reading every sentence aloud helps as well. Also, don't write anything that may be viewed as unprofessional or bizarre, like sending sentences in ALL CAPS.
For more information on possible business communication solutions, including email, give Macro Systems a call at 703-359-9211.