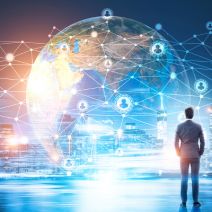 For businesses everywhere, technology is a necessity to reach their goals, which are of course influenced by the technology that companies are able to access. For this cycle to continue, a business needs to establish what is expected to come next in the line of IT innovation. It seems companies are currently placing convenience as a priority.
By convenience, we mean the ability for a comapnies' workforce to access the means of accomplishing their tasks from anywhere, not limited to their office computer. Here are some solutions below that we anticipate more companies will embrace in order to increase their capacity for remote work, and consequently increasing productivity.
Cloud Platforms
If a business is using remote technology, it is a safe bet that they are deploying a cloud platform to enable their employee's remote access. Cloud platforms are web-based solutions that enable a user to securely access an online storage space and other utility programs that allow them to consort with their fellow workers. Utilizing a cloud platform allows work to be done from anywhere that an employee can establish a secure Internet connection; the files that this work requires are stored in a protected space. This preserves the security that modern businesses require while allowing productivity to take place.
Videoconferencing
This solution enables a team full of employees who are located in different parts of the world to work as though they are in the same room. No matter the distance between resources, they can all contribute to a goal, without the need to assemble and pay exorbitant travel costs. Videoconferencing is especially convenient when one only person needs someone to sign off on things from across the country, but that person needs to see some evidence first.
Teleconferencing
Teleconferencing is one of the most standard, but most convenient, methods of quick collaboration available. Without the ability to call up another resource and trade critical information in a real-time conversation, progress would slow to a crawl. While email is an excellent collaboration tool, both resources have to be faithfully opening messages as they come in, which simply isn't realistic in modern business. Telecommunications systems, including VoIP solutions, allow communications to continue despite physical distance, a proven utility in modern business procedures.
In conclusion, a company that passes up on these tools is missing the opportunity to improve their business communications. This is why it is expected that most companies will take the steps to adopt these solutions, assuming they haven't already.
What technologies will businesses increase their use of in the coming year? Tell us what they are and why they'll shape your office environment in the comments section!