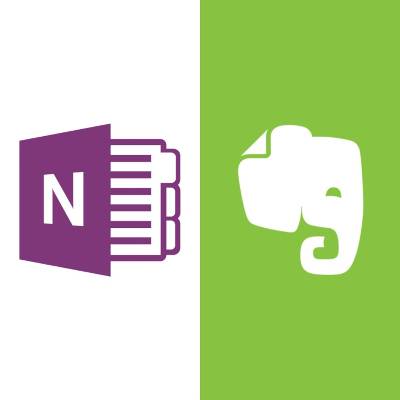 If you are taking notes related to an organization's operations, those notes need to meet certain guidelines of clarity, cohesiveness, and comprehension. To accomplish those guidelines, you will require the correct tools. This entry will appraise two of the industry's best note-taking applications to help you identify which is best for your needs. The applications: Microsoft OneNote, and EverNote.
---
OneNote Application
OneNote is available on a variety platforms, allowing its user to access a mostly comprehensive set of note-taking tools and features. While it naturally offers the standard text-based note format, some platforms also allow a user to add quick drawings, incorporate recorded audio and video, and paste images and spreadsheets into their notes. This application also allows users to share notes with each other.
OneNote retains a user's notes organized in a simple hierarchy, with each notebook they create being divisible into sections, subsections, and individual pages. Creating notes will be easy for anyone familiar with Microsoft Office applications, as OneNote's functions and tools are organized in the same tab setup that the other Office applications use. Using the Windows version of OneNote offers the most features within this setup, with less features offered in its versions for Apple products, its web version, and Android applications.
OneNote's Achilles heel in this comparison is without a doubt its web clipping functionality... or its lack thereof. If a user clips content from a webpage and adds it to OneNote, it is only added as an image. This has two disadvantages on the comprehensiveness of the application: any video content or links are made unusable, and a user can't copy and paste content from the clipping. Also, only users with a Microsoft account are able to utilize the web-clipping function.
In order for OneNote to synchronize itself across all of a user's devices where it is installed, it relies on OneDrive. Your version of Office will have an impact on how much storage space you have on OneDrive. If you need more storage, there are plans available that allow you to access more; that requires an additional fee, of course.
EverNote Application
While EverNote's basic functions are basically the same as OneNote's, this application has strengths in different enough areas that comparing the two isn't exactly a one-to-one consideration. Most importantly, while Evernote offers similar note-creation capabilities as OneNote, it has its strengths in how effectively it can be used to clip web content.
Via the use of a toolbar application, Evernote allows a user to pull content from the web in numerous ways. In addition to taking a simple screenshot of a page, Evernote can pull a single article and remove unwanted ads, extra content, or even the original formatting. A user can also use Evernote to grab the entire web page, ads and all, along with a working bookmark that directs to that page.
The user can tag content they capture with the clipper, and edit it by adding text, highlighting specific elements, drawing notes and arrows, and numerous other functions. The only portions of a captured page that can't be edited are elements like videos, but these act like links to the original page that the content was pulled from.
The EverNote application is set up much differently on Windows and Apple versions. As a result, EverNote is more difficult to navigate around on Apple devices than it is on Windows. Both mobile versions, as well as the web, permit the user to save a specific note in a special favorites menu for quick access.
There is a free version of the Evernote application, although it is a limited one. EverNote is also offered through various subscription models.
OneNote and EverNote!
Comparing both applications reveals that where one is weak, the other has its strengths. Thus, depending on your specific needs, each application may be a better choice than the other. It may be more effective to utilize both, perhaps only investing in the paid version of one and leveraging the free version of the other. For example: Evernote could be utilized to organize and categorize research for a project, while OneNote may be utilized to assemble those notes into a project map with notes detailing specific considerations.
Whether you decide on OneNote or EverNote, you will want to make sure that employees aren't using their personal accounts to store private company data. While both applications are relatively secure, it is better to be careful and reduce risks. Each application also has a business/enterprise version to help you retain control over your company data.
Whether you choose to use OneNote, Evernote, or both, Macro Systems can offer you some assistance. Give us a call at 703-359-9211 for more information.