Explaining IT Buzzwords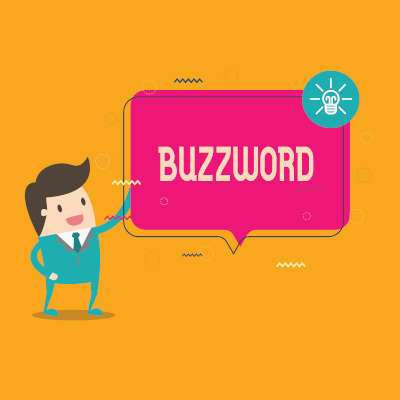 Nothing will irritate tech-savvy people more than listening to someone that essentially doesn't know what they are talking about, but uses technology jargon to seem like they do. It's confusing for the non-technical too. This annoyance is largely due to the gap between using words and understanding complex and detailed technology processes. So, while there is some respect given to people who work to comprehend the terminology, most of the time, it's just too much.
Below we identify some phrases that we hear from people all the time either in improper context or simply just as an attempt to relate with us, and what they really mean.
"Disruptive Technologies"
What it means: Any technology that undermines the effectiveness of the existing technology used in any scenario.
How it is used: Any new technology.
The fact is that any truly disruptive technology will sufficiently disrupt the market in which it is prevalent. It's not just a new technology that disrupts people's view of technology. When it is utilized improperly, it suggests that the technology just appeared and took over what was a static existence beforehand.
We hear the phrase "disruptive technology" far too much, and almost always out of context. Innovation takes time, and most technologies evolve to become the useful tech we use each day. Calling something disruptive when it has been in the pipeline for some time is incorrect.
"Digital Transformation"
What is intended: When an analog system is transitioned into a digital system.
How it is used: Adding more IT.
One of the most over-used terms we hear is "digital transformation". This is because a true digital transformation happens when moving from an antiquated analog system to a digital one. Unnecessary upgrades to digital systems is not a digital transformation. A lot of the time, it's just a waste of organizational resources.
Technology is a tool, not the rule. Be sure that you have a specific strategy before transitioning any of your internal processes to digital. That way you can avoid the shortcomings that many businesses see when hastily—or unnecessarily—implementing new IT.
"5G"
What is intended: The fifth generation of wireless that provides impressive gigabit data speeds and extremely low latency.
How it is used: The technology that is going to save the world.
"5G" is the buzziest of buzzwords. That's because it is legitimately exciting. On the other hand, many people are taking the features and benefits of 5G way too far. In fact, a lot of the wireless carriers that are claiming 5G connectivity, don't let potential customers in on the secret that 5G is only available in a very limited number of places. It's actually just being used to boost their phone sales. Marketing a technology that you won't have access to in the life of the device you are about to buy may seem shady, but that's where we are.
5G is also already a term related to the 5 GHz wireless band on modern Wi-Fi router. The 5 GHz on a router tends to have a faster speed, but a smaller coverage area, and has a harder time passing through walls in your home or office. Older devices might not support connecting to a 5 GHz wireless router, but for those that do, that faster speed can make a big difference.
"Machine Learning"
What is intended: A form of artificial intelligence that is able to compute huge data sets and handle them efficiently.
How it is used: A tool uses basic automation to complete a predefined task.
Automation is the future of many businesses, and your business should be looking for ways to automate some of your tasks, but many places people use the term "machine learning' to describe any algorithmic approach to automation. This isn't true.
Machine learning is a feature that effectively allows the software to adjust to the input provided to get a more direct and positive outcome for whomever is using the tool. Basically, the more data a system deals with, the more the software will adjust processes to adapt. It's an exciting technology that is often confused with basic automation.
"Business Intelligence"
What is intended: Software that measures certain data via company-defined metrics to help enhance operational stability and profitability.
How it is used: A tool to help predict what is going to happen with your business.
First of all, business intelligence is very useful. It not only uses the data your business creates to help you create more efficiency, it also offers insight into your business that isn't possible without it. However, it is not going to work to predict success for your business. Like any technology, it is a tool, and anyone that views it as anything other than that is going to be left with some degree of disappointment.
Business intelligence can provide a great deal of insight into how your business functions, what works and what hasn't in the past, who you should be marketing to, etc. In no way is it able to predict what will happen in the future, though.
Don't Let Business Technology Be Something That It Is Not
Your business uses IT to make your business better, but no piece of technology is going to change your fortunes if you don't understand the limitations that the technology you use has. If you would like more information about how technology can fit into your business instead of having your business fit around your technology, give the IT experts at Macro Systems a call today at 703-359-9211.
Comments
No comments made yet. Be the first to submit a comment
By accepting you will be accessing a service provided by a third-party external to https://www.macrollc.com/