How Cloud Computing can Improve Your Business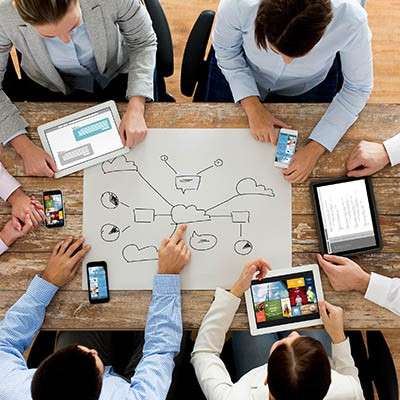 Thanks to the growing abilities of modern computing networks, businesses have been able to experience increased productivity. One such capability, cloud computing, has permitted businesses to reach outside of their physical location to conduct their operations. Below is a review of some of cloud computing's other advantages.
Enhanced Team Collaboration
One of the cloud's most recognizable benefits is how useful it is to a business that leverages collaboration. Multiple users can utilize your cloud resources, as your applications, storage, and/or infrastructure is hosted outside of your business and accessed via a web client or browser. As a result, multiple users can collaborate, without any concern for where they are physically located.
User Tip: Most software solutions now provide associated mobile apps that permit your team to collaborate on-the-go. If you have the proper systems in place to secure your remote resources, consider using these applications.
Enhanced Productivity
The cloud has proven the capacity to provide a productivity boost, in some cases presenting a four-times increase in small business operational efficiency. In other words, these companies could accomplish four times as much as a company that still relied on a traditional computing infrastructure. How is this possible? Collaboration, which makes tasks go quicker, allowing more to be done in the same amount of time.
User Tip: It is imperative not to misinterpret the cloud to be some kind of productivity magic bullet; it still needs to be properly managed. While the cloud provider generally handles the maintenance and security of the resources you use, you need to make sure someone is responsible for keeping your files and materials organized.
Capital Benefits
This is one of cloud computing's most apparent benefits: it can help save a business a considerable amount of money, in numerous ways. For example, it eliminates the need to buy a server for thousands of dollars. Instead, you effectively rent out the computing that you use each month. This makes it great for businesses who frequently need to scale their operations forward and back.
A business can also save some money via the cloud through their reduced responsibilities for maintenance. Whether you're leveraging cloud-hosted software or a storage platform, the cloud provider handles the behind-the-scenes management. For a predictable monthly fee, you get an up-to-date and secure solution patched and ready for you to use.
Lastly, you have to consider the real cost of using on premise hardware. You do have to pay for the hardware itself, but then you also need to pay for the electricity to power it and provide a climate-control system to keep it cool. This is all included in the cost when leveraging a cloud solution, reducing your operational expenses and freeing up space that would have otherwise held some large computing infrastructure. Additionally, cloud expenditures can be considered operational costs, simplifying your budgeting process.
User Tip: Don't bite off more than you can chew when migrating to the cloud. By going about it in smaller, controlled steps, you can make sure that the cloud is the right fit. For example, public cloud platforms tend not to match well with industries that are highly regulated. Experimenting a bit, to a limited degree, is a good way to test the waters of the cloud before diving in.
Macro Systems can help you fulfill your cloud needs. For more assistance or information, give us a call at 703-359-9211.
Comments
No comments made yet. Be the first to submit a comment
By accepting you will be accessing a service provided by a third-party external to https://www.macrollc.com/